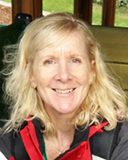 Hello, my name is Clare and I am an integrative counsellor. So, what does that mean? Well, I underpin my support with various different theories with the main ones being Person Centred, Psychodynamic, Cognitive Brief Therapy, Solution Focussed Therapy, Attachment Theory and Creative Theory. I will 'fit' my approach and support to 'fit' my client. We are all individuals and as such my support will adjust to 'fit' the individual.
I am also very excited to be able to offer therapy outside in nature whether that is walking talking together or taking a seat somewhere or both. The benefits to our well-being whilst spending time outside is very well documented and I know for some clients having their therapy sessions outside is a better 'fit' for them. I do of course also offer counselling in an office, online and by telephone as well.
I also like to offer creative interventions during therapy if this is something that a client would like to use or try. Some clients find using creative techniques as a more accessible medium to explore their thoughts and emotions.
So, who am I? Well, I trained as a counsellor whilst serving in the Army qualifying in 2012 and was able to afford support to many service personnel and their families. I am passionate about Veterans and Service Personnel being able to access appropriate support for their needs. have a Diploma in Therapeutic Counselling and I am an accredited member of the BACP, including the BACP accredited voluntary register and I work within the Ethical Framework for Good Practice which underpins my work. My work has been accredited by the BACP, this is a well recognised and valued quality status for practitioners that recognises the achievement of high standards of knowledge, experience and development.
As well as my private practice, I also work as a counsellor in a local college, where as well as counselling individual students, I also write and facilitate group work on subjects such as anxiety, exam stress, self-esteem, self-harm and low mood. So as well as working with adults of all ages; I have a specific wealth of experience with young adult issues and I hold a current DBS certificate.
In addition to my counselling work, I have worked as a lecturer within a local college, where I have used my experience and knowledge to teach CPCAB counselling qualifications to adult learners.
I am also a qualified Life Coach which enable me to be able to afford a Coaching/Counselling experience if this is something which you feel may be beneficial to your needs.
Fees:
Individual 50 minutes Counselling Appointment (walking talking outside in nature, office, online or telephone) £45.00
Couples 50 minutes Counselling Appointment (office) £60.00
Individual 50 minutes Life Coaching Appointment (office) £45.00