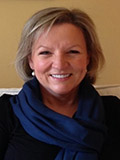 I am a fully qualified counsellor offering individuals and couples a safe and supportive environment to explore difficult feelings and issues.
My role is to provide you with a non judgemental and confidential environment where any issues you bring to our sessions are welcomed with an open mind and an ability to support you with warmth and understanding.
I work with both individuals and couples on all kinds of relationship issues whether you're young or old, straight or gay, a parent or step-parent, single or in a relationship. It is often our relationship with ourselves that stops us being able to find and enjoy lasting and fulfilling relationships with others.
We all struggle with relationships at times – especially at more challenging times in our lives such as when we have just had a baby or suffered a bereavement or a job loss. We often expect our relationship to support and carry all the strain when 'life' happens to us and often it's just too much to ask – I can support you and help you to explore and understand better what is going on and so move towards healing, change and growth. Whatever you're going through … allow me to go through it with you.
A free initial telephone consultation helps to answer any questions you may have about counselling with me. Evidence shows that the single most important factor in any successful outcome of therapy is the quality of the relationship offered by the counsellor … in other words do you feel comfortable with me? This initial telephone call gives you an opportunity to speak to me and form an initial impression.
I began my journey as a couples counsellor in 2001 when I first joined Relate. Then in 2010 I began a four year course of training to become a qualified one-to-one counsellor. I've worked in private practice as a qualified counsellor and Relate trained couples counsellor for the past eight years.
Sessions last for an hour and my fees are Individuals £55 and Couples £65
As a registered member of the British Association for Counselling and Psychotherapy (BACP) I abide by their ethical framework for good and safe practice in my work as a counsellor.