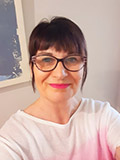 I am a fully qualified, professional and experienced relational therapist.
My role is one of support and gentle curiosity and by working integratively I am able to tailor our therapy to suit your current needs.
I am there to listen with empathy and strive to see the world through your eyes.
I am not there to give you the answers, as you will discover those for yourself, I'm there to facilitate, enable and support you.
Through our counselling relationship, I will share my knowledge, skills and counselling experience in-order to help you grow, heal & move forward.
So lets work together in a way that makes you 'FeelEnabled',
I also offer Walk & Talk/ Outdoor therapy – Evidence suggests there are real benefits to be gained by being able to combine the positive aspects of being outdoors with the benefits of talking therapy. We know that being outside can improve mood, help us to sleep better and decrease stress and anxiety for example. It can be both soothing and exhilarating. It provides the opportunity to increase exposure to natural light and fresh air that our bodies and brains instinctively respond to. Please contact me for more details…
The most important thing to remember is that YOU ARE NOT ALONE, we will make this journey side by side and together.
And every journey begins with a single step…