DipCouns Accredited Member MNCS
Telephone 07746 627673
email: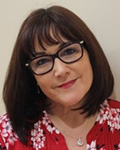 Hi I'm Shirley, thank you for taking the time to read my profile.
Life can be hard, it is a journey, not a destination and we have to navigate the bumps along the way. Sometimes we need to change direction to deal with the challenges that life throws at us, that often leave us feeling overwhelmed. Sometimes we find our own coping skills are not enough. Asking for help is nothing to be ashamed of. Counselling can help you put aside the brave face you wear for family and friends, as it can be difficult to talk openly and honestly with them.
 "You can't stop the waves, but you can learn to surf"    – Jon Kabat-Zinn
There are many reasons why people come to counselling. No problem is too big or too small, whether you are looking for individual counselling or help as a couple. Perhaps you have been struggling with something for a long time, or you might have experienced a recent upheaval in your life.
I understand that coming to counselling may seem daunting. Perhaps you could think of it as reaching out and taking the first step. There's no one giant leap to healing and well-being, but lots of little steps along the way. Counselling is an investment in yourself, a way of finding balance to a happier and healthier you. You're worth that!
I work with individuals and couples from all walks of life, who are going through difficult times and would like to improve how they feel about themselves, improve their coping skills, find their voice and become empowered.
Reasons for seeking counselling are as individual as you are. Counselling can help you to:
Feel more in control
Resolve relationship issues
Work through loss and grief
Become less anxious and stressed
Gain confidence to help with low self-esteem
Learn to break negative thought patterns
Work through past or present trauma
To find out more about yourself
With couples work, it is the relationship that is the client. I work in the same neutral and empathic way, helping couples to improve their relationship with better understanding and honest communication, conflict resolution skills and the belief that if they are willing to change, the relationship can change too.
I am passionate about what I do. I love people – their uniqueness, their triumphs and failures, their diversity and dilemmas. I build therapeutic relationships based on trust and acceptance. No judgement. I am an experienced, down-to-earth and friendly counsellor. My aim is to help you feel comfortable and empowered, so that you can achieve what matters most to you in your life.
It is very important that you feel comfortable and connected with a counsellor, so that a relationship based on honesty, openness and trust can be built. This will allow you to feel accepted without judgement. Please contact me if you would like a free, no obligation 20-minute phone call to get a feel if you feel we could work together.
Let's talk. Take your first step towards your best life.
Session fees range from £50 – £75. Please get in touch to find out more.